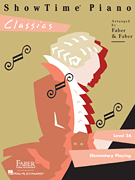 ShowTime Classics 2A
Manufacturer Part #:
  674398201068
Features:
An excellent collection of symphonic and operatic works by the great composers. The pieces were chosen for their appealing melodies and rhythmic vitality. Includes: Theme from Don Giovanni (La ci darem la mano) by Mozart · Egyptian Ballet Dance (from the opera Sanson & Delilah) by Saint Saëns · Liebestraum by Liszt · The Merry Widow Waltz (from the opera The Merry Widow) by Lehár · Minuet (Op. 14, No. 1) by Paderewski · Canon by Pachelbel · Spring (from The Four Seasons) by Vivaldi · Suitor's Song (from the operetta The Gypsy Baron) by J. Strauss, Jr. · Theme from Symphony No. 1 (Third Movement, Frère Jacques theme) by Mahler · Prince of Denmark's March (Trumpet Voluntary) by Clarke.
View Helpful Introductory Videos Here
Table of Contents:
Canon (Pachelbel)

Egyptian Ballet Dance (Saint-Saens)

Liebestraum (Liszt)

Minuet, Op. 14, No. 1 (Paderewski)

Prince of Denmark's March (Trumpet Voluntary) (Clarke)

Spring from The Four Seasons (Vivaldi)

Suitor's Song from The Gypsy Baron (J. Strauss, Jr.)

The Merry Widow Waltz (Lehar)

Theme from Don Giovanni (Mozart)

ShowTime Classics 2A
SKU:
  1001-00420161^674398201068
Manufacturer Part #:
  674398201068
---
Customer Reviews