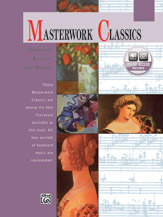 Masterwork Classics, Lvl. 5 (CD)
Manufacturer Part #:
  038081006116
Features:
A progressive repertoire series designed to motivate students while allowing them to progress evenly and smoothly from the earliest classics toward intermediate literature. These pieces are from the standard classical literature, chosen to appeal both to teacher and student. Each volume comes with a corresponding CD. Pianist Valery Lloyd-Watts studied at the Conservatory of Music in Toronto and the Royal College of Music in London. She earned a Master of Music degree from the University of Wisconsin, where she studied with Paul Badura-Skoda.
Table of Contents:
A Sad Story (Streabbog)

Andantino (Khachaturian)

Angels' Voices (Burgmuller)

Ave Maria (Burgmuller)

Etude in A Minor (Kabalevsky)

Etude in C Major (Heller)

In a Woodland Glade (Gretchaninoff)

March in D Major (Bach)

Menuet in D Minor (Bach)

Prelude in F Major (Bach)

Prelude in G Major (Kuhnau)

Rocking (Rebikov)

Scherzo in D Minor (Gurlitt)

Sonatina in C Major, 1st mvmt. (Diabelli)

Sonatina in C Major, 1st mvmt. (Lynes)

Sonatina in C Major, 1st mvmt. (Spindler)

Sonatina in F Major, 1st mvmt. (Beethoven)

Sonatina in F Major, 3rd mvmt. (Diabelli)

Sonatina in G Major, 1st mvmt. (Clementi)

The Bandit (Bartok)

The Cadets (Streabbog)

The Farewell (Burgmuller)

The Orphan (Streabbog)

The Village Girls (Bartok)

Masterwork Classics, Lvl. 5 (CD)
SKU:
  1026-00-414^038081006116
Manufacturer Part #:
  038081006116
---
Customer Reviews