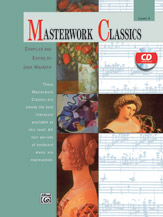 Masterwork Classics, Lvl. 4
Manufacturer Part #:
  038081001531
Features:
A progressive repertoire series designed to motivate students while progressing evenly and smoothly from the easiest classics toward intermediate-level literature. These pieces, chosen from the standard classical literature, will appeal to both teacher and student. Each volume comes with a corresponding CD. Recording artist Valery Lloyd-Watts studied at the Conservatory of Music in Toronto and the Royal College of Music in London. She earned a Master of Music degree from the University of Wisconsin, where she studied with Paul Badura-Skoda. She co-authored the text Studying Suzuki Piano: More than Music, which was endorsed by Dr. Suzuki.
Table of Contents:
Bach, Notebook for Anna Magdalena: Menuet in G Major

Bach, Notebook for Anna Magdalena: Menuet in G Minor

Bach, Notebook for Anna Magdalena: Polonaise in G Minor

Bartok, A Magic Game

Bartok, Piece No. VII

Bartok, Piece No. VIII

Bartok, Rhythmic Dance

Beethoven, Country Dance in C Major

Beethoven, German Dance in C Major

Beethoven, German Dance in G Major

Burgmuller, Arabesque

Burgmuller, Progress

Clarke, King William's March

Clementi, Pyrenese Melody

Gretchaninoff, Etude

Gurlitt, In the Garden

Gurlitt, Murmuring Brook

Gurlitt, Serenade

Handel, Menuet in A Minor

Handel, Menuet in D Minor

Haslinger, Sonatina in C Major (Allegretto)

Haydn, Scherzo in F Major

J.C.F. Bach, Schwabisch

Kabalevsky, Clowns

Kabalevsky, Galop

Mozart, Country Dance in G Major

Mozart, Minuet in C Major

Pepusch, Voluntary

Purcell, Air

Purcell, Hornpipe

Rebikov, Playing Soldiers

Shostakovich, Hurdy-Gurdy

Streabbog, A Pleasant Morning

Masterwork Classics, Lvl. 4
SKU:
  1026-00-168^038081001531
Manufacturer Part #:
  038081001531
---
Customer Reviews