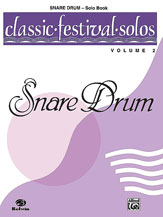 Classic Festival Solos, Snare Drum Vol. 2
Manufacturer Part #:
  029156079913
Features:
Classic Festival Solos, Volume II continues to afford the advancing student the opportunity to find performance materials graded from easy to more challenging, including exposure to a variety of musical styles. Many of these works appear on state contest lists. Snare Drum, Volume II contains 15 different solos for snare drum and piano accompaniment. Elementary to advanced contest standards by Feldstein, Hoey, Barnett, and Masoner. Contains: Drumfounded (Barnett) * Flim Flam (Barnett) * George M. Cohan Medley (Cohan, arr. Barnett) * High School Cadets (Sousa, arr. Barnett) * Hoedown (Barnett) * A Horse of a Different Color (Barnett) * March - Two (2) (Knohr/Sousa, arr. Moyer/Barnett) * Pet Rock (Barnett) * Polka Dots (Barnett) * Snap, Crackle, Pop (Barnett) * Stick to It (Barnett) * Sugar Beats (Barnett) * Sweet Rolls (Barnett) * Tiki's Tune (Barnett) * Track South (Hoey).
Table of Contents:
A Horse of a Different Color (Barnett)

Drumfounded (Barnett)

Flim Flam (Barnett)

George M. Cohan Medley (Cohan, arr. Barnett)

High School Cadets (Sousa, arr. Barnett)

Hoedown (Barnett)

March - Two (Knohr / Sousa, arr. Moyer / Barnett)

Pet Rock (Barnett)

Polka Dots (Barnett)

Snap, Crackle, Pop (Barnett)

Stick To It (Barnett)

Sugar Beats (Barnett)

Sweet Rolls (Barnett)

Tiki's Tune (Barnett)

Track South (Hoey)



| | |
| --- | --- |
| Catalog: | 029156079913 |
| Publisher: | Belwin |
| Composer: | various |
| Artist: | |
| Arranger: | |
| Voicing: | |
| Level: | |
| Pages: | 16 |
Classic Festival Solos, Snare Drum Vol. 2
SKU:
  1026-00-EL03899^029156079913
Manufacturer Part #:
  029156079913
---
Customer Reviews