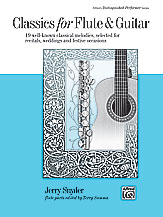 Classics for Flute & Guitar
Manufacturer Part #:
  038081205977
Features:
This collection of 19 well-known classical melodies was selected especially for recitals, weddings and festive occasions. Arrangements include Bourree and Brandenburg Concerto No. 5 by Johann Sebastian Bach, Canon in D by Johann Pachelbel, Mozart's Eine Kleine Nachtmusik, Entr'acte from "Carmen" by Georges Bizet, and more. With arrangements by master guitarist Jerry Snyder, and flute parts edited by Terry Summa, this book is the perfect companion for any celebration gathering.
Table of Contents:
Afro-Cuban Lullaby (traditional)

Air on a G String (J. S. Bach)

Be Thou With Me (J. S. Bach)

Berceuse, Op. 16 (G. Faure)

Bourree from Lute Suite I in E Minor (J. S. Bach)

Brandenburg Concerto No. 5, 1st mvmt. (J. S. Bach)

Canarios (G. Sanz)

Canon in D (J. Pachelbel)

Eine Kleine Nachtmusik, 1st mvmt. (W. A. Mozart)

Entr'acte from "Carmen" (G. Bizet)

Greensleeves (traditional)

Gymnopedie I (E. Satie)

Jesu, Joy of Man's Desiring (J. S. Bach)

Pavane, Op. 50 (G. Faure)

Scarborough Fair (traditional)

Siciliano from Sonata II (J. S. Bach)

Sicilienne from "Pelleas et Melisande," Op. 78 (G. Faure)

Sleepers Wake from Cantata No. 140 (J. S. Bach)

Classics for Flute & Guitar
SKU:
  1026-00-21977^038081205977
Manufacturer Part #:
  038081205977
---
Customer Reviews