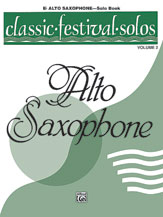 Classic Festival Solos, Alto Sax Vol. 2
Manufacturer Part #:
  9780769255590
Features:
Classic Festival Solos, Volume II continues to afford the advancing student the opportunity to find performance materials graded from easy to more challenging, including exposure to a variety of musical styles. Many of these works appear on state contest lists. Contains: Advance of the Alto (Rousseau) * Arioso (Bach, arr. Rousseau) * Ave Verum Corpus (Mozart, arr. Rascher) * Ballade (Gee) * Calm as the Night (Bohm, Rousseau) * Contempora Suite (Young) * Matador (Girlamo, arr. Coggins) * The Oxen Minuet (Haydn, arr. Rascher) * Reminiscience (Walker) * Sax Ripple (Burgstahler) * Saxography (Luebke) * Tambourin (Gluck, arr. Rascher) * Traumerei (Schumann, arr. Rascher).
Table of Contents:
Advance of the Alto (Rousseau)

Arioso (Bach, arr. Rousseau)

Ave Verum Corpus (Mozart, arr. Rascher)

Ballade (Gee)

Calm as the Night (Bohm, arr. Rousseau)

Contempora Suite (Young)

Matador (Girlamo, ed. Coggins)

Reminiscence (Walker)

Sax Ripple (Burgstahler)

Saxography (Luebke)

Tambourin (Gluck, arr. Rascher)

The Oxen Minuet (Haydn, arr. Rascher)

Classic Festival Solos, Alto Sax Vol. 2
SKU:
  1026-00-EL03881^9780769255590
Manufacturer Part #:
  9780769255590
---
Customer Reviews