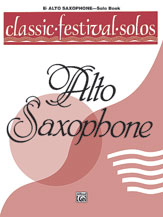 Classic Festival Solos, Alto Sax Vol. 1
Manufacturer Part #:
  029156270747
Features:
Classic Festival Solos offers the advancing instrumentalist an array of materials graded from easy to more challenging. There are different titles for each instrument, and an assortment of musical styles has been included in each book for variety. Many of the solos appear on state contest lists. Contains: Alman (Morley, arr. Dishinger) * Aria and Scherzo (Fox) * Bourree (Handel, arr. Dishinger) * The Caballero (Burgstahler) * Canzone Barcarola (Drigo) * From Heaven High (Praetorius, arr. Rascher) * Impressions of Summer (Gallaher) * Kemp's Jig (Anonymous, arr. Dishinger) * Minuet (Bach, arr. Rascher) * Poco Waltz (Lotzenhiser) * Rigaudon (Purcell, arr. Dishinger) * Rondeau (Couperin, arr. Dishinger) * Village Dance (Rossini, arr. Rascher) * Winter Rhapsody (Foster). This title is available in SmartMusic.
Table of Contents:
Alman (Morley / Dishinger)

Aria and Scherzo (Fox)

Bourree (Handel / Dishinger)

Canzone Barcarola (Drigo)

From Heaven High (Praetorius / Rascher)

Impressions of Summer (Gallaher)

Kemp's Jig (Anonymous / Dishinger)

Minuet (Bach / Rascher)

Poco Waltz (Lotzenhiser)

Rigaudon (Purcell / Dishinger)

Rondeau (Couperin / Dishinger)

The Caballero (Burgstahler)

Village Dance (Rossini / Rascher)

Classic Festival Solos, Alto Sax Vol. 1
SKU:
  1026-00-EL03732^029156270747
Manufacturer Part #:
  029156270747
---
Customer Reviews