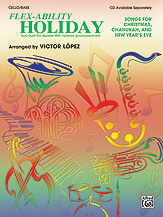 Flex-Ability Holiday - Cello
Manufacturer Part #:
  654979050650
Features:
The Flex-Ability series, arranged by Victor Lopez, fills the need for multi-level instrumentalists to play popular music together. Each instrument book includes 11 songs in four-part score form. The top line (solo) is for level 2.5--3. The second line (duet/harmony) is for level 2--2.5. The third line (trio/harmony) is for level 1.5. The bottom line (harmony or bass line) is for level 0.5--1 (only whole, half, dotted half, and quarter notes and rests). The arrangements are carefully crafted to be educationally sound. Optional octaves and cue notes are included to allow for range flexibility. Titles: Jingle Bells * Santa Claus Is Comin' to Town * Have Yourself a Merry Little Christmas * (I'm Gettin') Nuttin' for Christmas * Frosty the Snowman * I'll Be Home for Christmas * Angels We Have Heard on High * Joy to the World * We Wish You a Merry Christmas * Auld Lang Syne * Chanukah Medley: Chanukah/I Have a Little Dreydl.
Table of Contents:
(I'm Gettin') Nuttin' for Christmas

Angels We Have Heard on High

Auld Lang Syne

Chanukah Medley: Chanukah / I Have a Little Dreidl

Frosty the Snowman

Have Yourself a Merry Little Christmas

I'll Be Home for Christmas

Jingle Bells

Joy to the World

Santa Claus is Comin' to Town

Flex-Ability Holiday - Cello
SKU:
  1026-00-0700B^654979050650
Manufacturer Part #:
  654979050650
---
Customer Reviews