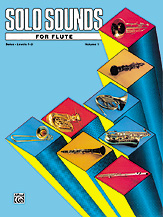 Solo Sounds (1-3), Flute Vol. 1
Manufacturer Part #:
  029156166422
Features:
The contents of the Solo Sounds folios features works on State Contest lists for each instrument (and pieces that are likely list candidates). Two folios are available for each instrument (flute, clarinet, oboe, alto saxophone, trumpet, trombone, French horn, and tuba), both with supplementary piano accompaniment volumes.
Table of Contents:
Adobe (Sumerlin)

Album Leaf (Walker)

Andantino (Lewallen)

Autumn Leaves (Weber)

Blues in F (Billingsley / Hahn)

Country Dance (Lewallen)

Echoes (Billingsley / Hahn)

Fiesta (Billingsley / Hahn)

Fiesta (Sumerlin)

Morning Mist (Billingsley / Hahn)

Notturno (Lewallen)

On Wings of Song (Mendelssohn / Weber)

Poeme Petite (Lewallen)

Summer Songs (Billingsley / Hahn)

Solo Sounds (1-3), Flute Vol. 1
SKU:
  1026-00-EL03323^029156166422
Manufacturer Part #:
  029156166422
---
Customer Reviews