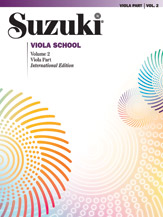 Suzuki Viola, Vol. 2 (Book Only)
Manufacturer Part #:
  654979008705
Features:
Teach viola with the popular Suzuki Viola School. The Suzuki Method of Talent Education is based on Shinichi Suzuki's view that every child is born with ability, and that people are the product of their environment. According to Shinichi Suzuki, a world-renowned violinist and teacher, the greatest joy an adult can know comes from developing a child's potential so he/she can express all that is harmonious and best in human beings. Students are taught using the "mother-tongue" approach. Each series of books for a particular instrument in the Suzuki Method is considered a Suzuki music school, such as the Suzuki Viola School. Suzuki lessons are generally given in a private studio setting with additional group lessons. The student listens to the recordings and works with their Suzuki Viola teacher to develop their potential as a musician and as a person. This Suzuki book, Volume 2, is integral for Suzuki viola lessons. Titles: Chorus from Judas Maccabaeus (Handel) * Musette, Gavotte II or the Musette from English Suite III in G Minor for Klavier, BWV 808 (Bach) * Hunters' Chorus from 3rd Act of the Opera Der Freischutz (Weber) * Long, Long Ago (Bayly) * Waltz, Op. 39, No. 15 for Piano (Brahms) * Bourree from Sonata in F Major for Oboe, HHA IV/18, No. 8 (Handel) * The Two Grenadiers, Die beiden Grenadier, Op. 49, No. 1 for Voice and Piano (Schumann) * Theme from Witches' Dance (Paganini) * Gavotte from Mignon (Thomas) * Gavotte (Lully) * Minuet in G, Wo0 10, No. 2 (Beethoven) * Minuet from Sei Quintetti per Archi No. 11, Op. 11, No. 5 in E Major (Boccherini). For a complete list of the most recent printings by AMPV number, go to alfred.com/suzuki. This title is available in SmartMusic.
Table of Contents:
Bourree (G.F. Handel)

Chorus from "Judas Maccabaeus" (G.F. Handel)

Gavotte (J.B. Lully)

Gavotte from "Mignon" (A. Thomas)

Hunter's Chorus (C.M. von Weber)

Long, Long Ago (T.H. Bayly)

Minuet (L. Boccherini)

Minuet in G (L. van Beethoven)

Musette (J.S. Bach)

The Two Grenadiers (R. Schumann)

Theme from "Witches' Dance" (N. Paganini)

Suzuki Viola, Vol. 2 (Book Only)
SKU:
  1026-00-0242S^654979008705
Manufacturer Part #:
  654979008705
---
Customer Reviews